The (sweet) scoop on sorghum
Dr. Larry Barlow keeps family tradition alive
Published August 2017 in Ripley Publishing Company newspapers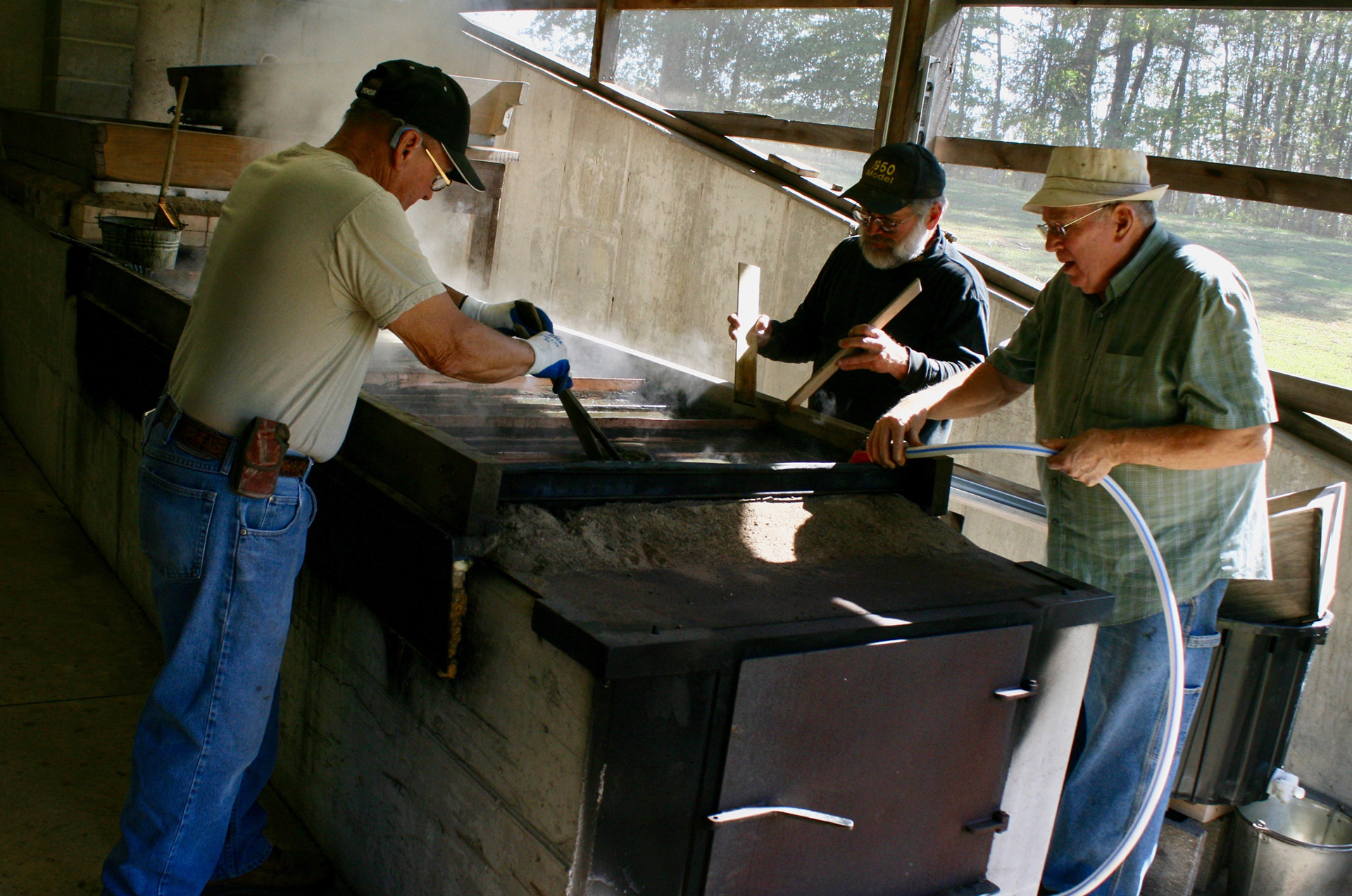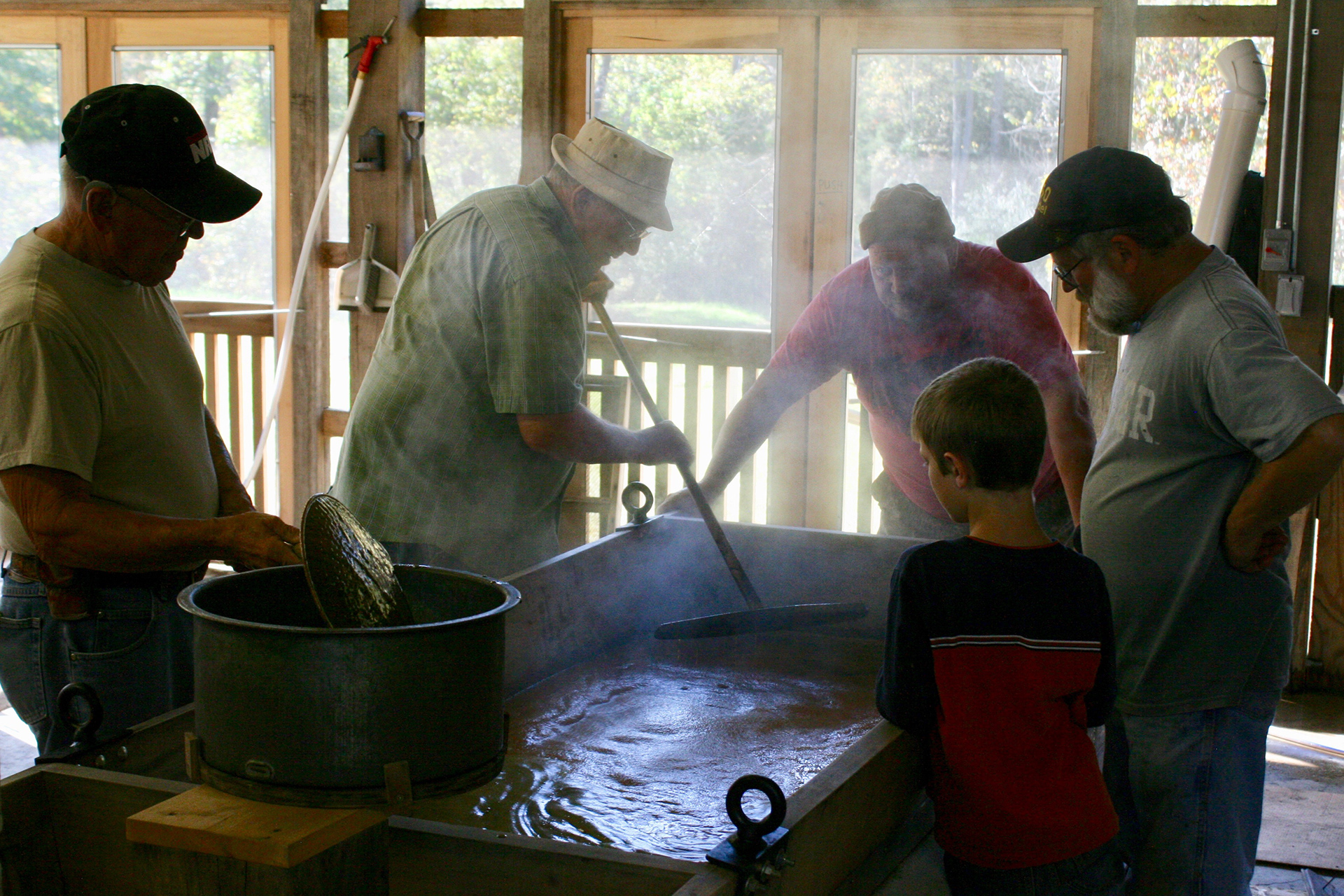 For many, the first thing that comes to mind when dreaming of days gone by is the conviction that the past was simpler. The second thing is the realization that simpler often meant tougher, too, compared to the conveniences of modern living. "My uncle would roll over in his grave," Dr. Larry Barlow jokes on his hobby farm near Milan, "If he knew I was selling this stuff by the pint."
     He's referring to his homemade, wood-fired sorghum; a dark, rich syrup with a wide range of culinary uses. Back in harder days, particularly around World War II, Barlow's aunt and uncle, Loren and Elvera Cutter, would sell their sorghum multiple gallons at a time. Elvera was a sister to Dr. Barlow's mother, Lavera. His father is Elmer Barlow. Sugar was scarce, and sorghum was a homegrown, worthy substitute. "They would cook sorghum from September through Christmas, and most families would buy two or three gallons to last them the year," Barlow recounts. Families would either buy the finished product that the Cutter's grew, or bring their own harvest for processing. Some families would even bring a five gallon tin can for filling. Unlike honey, finished sorghum does not crystallize over time. Since the product lasts nearly indefinitely in an airtight container, and the cooking process only happens once per year, it made sense to stock up while the getting was good.
     Dr. Barlow's passion for his retirement hobby is easily apparent just through conversation, but it really bursts alive when listening to him talk about the equipment and facilities he uses to produce those convenient, modern day pint jars of the sweet stuff. Through the years, he has salvaged and refurbished a number of antique agricultural pieces to use for the planting, harvesting, and processing of his sorghum. On his current property, he rebuilt his aunt and uncle's mill to exact specifications, to accurately mimic the sorghum making experience as it was in the late 19th and early 20th centuries.
     "The Cutter farm was in Farmers Retreat," Barlow recalls, "And we were there every weekend helping out. As soon as I was old enough to drive a tractor, I did that. The whole family helped out when it came to making sorghum." A traditional sorghum mill, says Barlow, is built into a hillside so that gravity can be utilized. The harvested cane is sent through a mechanical presser, and the resulting juice is filtered twice before flowing through pipe into the mill for further filtering and cooking.
     As the years ticked on, the Cutter's eventually halted operations. Loren is said to have fed his remaining sorghum seed to the family's chickens, and the mill was left to deteriorate, with the roof eventually collapsing.
     Sometime around 1990, Dr. Barlow began to dream of reviving the family tradition, carrying it on for a fourth generation. It was then he rebuilt a mill on his property to the specifications on the Cutter farm. Around 2001, he and his son tore the roof off the dilapidated mill to salvage the copper evaporator and cooking pans. Over the next several years, he taught himself woodworking skills to rebuild more equipment necessary to operate the mill just as it would have in the 1890s. All of this equipment, and the bulk of the mill itself, is built of poplar from Barlow's property, where he also taps maple trees.
     Since his uncle's remaining seed has long been lost, Dr. Barlow has been tinkering through the years to mimic the sorghum his family grew. He's currently on his fifth variety of seed, and he both purchases seed each year for his crop along with saving some of his own. Interestingly, it is in the development of the seed head on the plant that lets a farmer know the precise time to harvest for maximum sweetness.
     The plant grows to around 12 feet tall, and among several stages of development, a farmer looks to harvest in-between the "soft-dough" and "hard-dough" phases. "If you pinch the seed with your fingernail, and a milky substance comes out, it's too soon," Barlow teaches. If the plant is left to develop to a hard seed, it can still be processed, he says, it just won't make the best final product.
     The sorghum plant itself grows well in poor soil and prefers hot, dry weather. As most varieties of sorghum originate from Australia and Africa, this makes sense. Our southeastern Indiana home is on the northern fringe of the plant's growing range, and it is traditionally thought of as a southern-U.S. crop.
     Usually, the perfect timing for harvest comes in mid-October. "I start the fires around 5:00 a.m.," Barlow shares, "And we work until after sunset." He's got a handful of loyal helpers who join him every year for the cooking event, which lasts between seven and 10 days. "The pans hold over 100 gallons of juice, and it takes between 13 to 17 gallons of juice to make one gallon of sorghum." This ratio is highly preferable to his last maple syrup harvest, which saw a 100:1 gallon ratio of sap to finished syrup.
     Both personal experience and research taught Barlow that the ideal temperature for cooking is 226.9 degrees Fahrenheit. His crew uses both traditional and modern methods of testing the product for doneness. "If you take a large spoon and lift up a spoonful of syrup, it should be thick enough to drip separately three times," Barlow says. More precisely, he uses a refractometer to measure the exact sugar content, measured in the unit of "brix." He shoots for 78-82 brix. On the lower side, the syrup is slightly runnier; on the higher, it is thicker.
     By the time the cooking process is complete, the syrup has been filtered seven times through homemade, brass filters. It is allowed to cool to around 160 degrees and is then poured into the glass jars in which it is sold. It still cooks slightly in the jar, lending to the sweet residue that coats the lid. In contrast, modern day sorghum processing facilities utilize steam to cook the syrup in stainless steel pans, which lends to a lighter colored final product.
     On the business side, Barlow has spread his product around the county and state. His operation, with its precise attention to history, is approved by state and county boards of health. His finished product is sold by pint and quart at Pat's Bulk Food in Correct, IGA in both Versailles and Dillsboro, Pride Market in Hanover, Spoda's in Versailles, and at both the Versailles and Dillsboro farmers markets. To the west, his sorghum has also found a home on the shelves of the historic Bridgeton Mill, a popular stop at the famous Parke County Covered Bridge Festival.
     As a sweetener, sorghum makes a great substitute for brown sugar in most baking recipes, and it's tasty right on top of cornbread, biscuits, and pancakes. It is slightly less sweet than refined sugar and honey, yet much less bitter than blackstrap molasses. Unlike many sweeteners, it carries a decent nutritional profile. Minerals like calcium, iron, potassium, magnesium, and zinc are all present in the syrup, and some research shows it even boasts a healthy dose of antioxidants.
     As summer wanes, Dr. Barlow looks forward to another year of cooking. He loves spending time with family and friends during the autumn harvest, and is thankful for the support they provide. In his product brochure, it says, "If you are in Ripley County around the second or third week of October, please stop by and give us a visit. I think you will find the process very interesting and the people on my work crew are all interesting characters." Rather than rolling in his grave, Loren Cutter's spirit is surely at peace with the continuation of tradition that his nephew has accomplished. A field trip to see it in real life may be just the right way to spend a crisp fall day.