Essential Indiana Basketball Collection + Sports Through the Seasons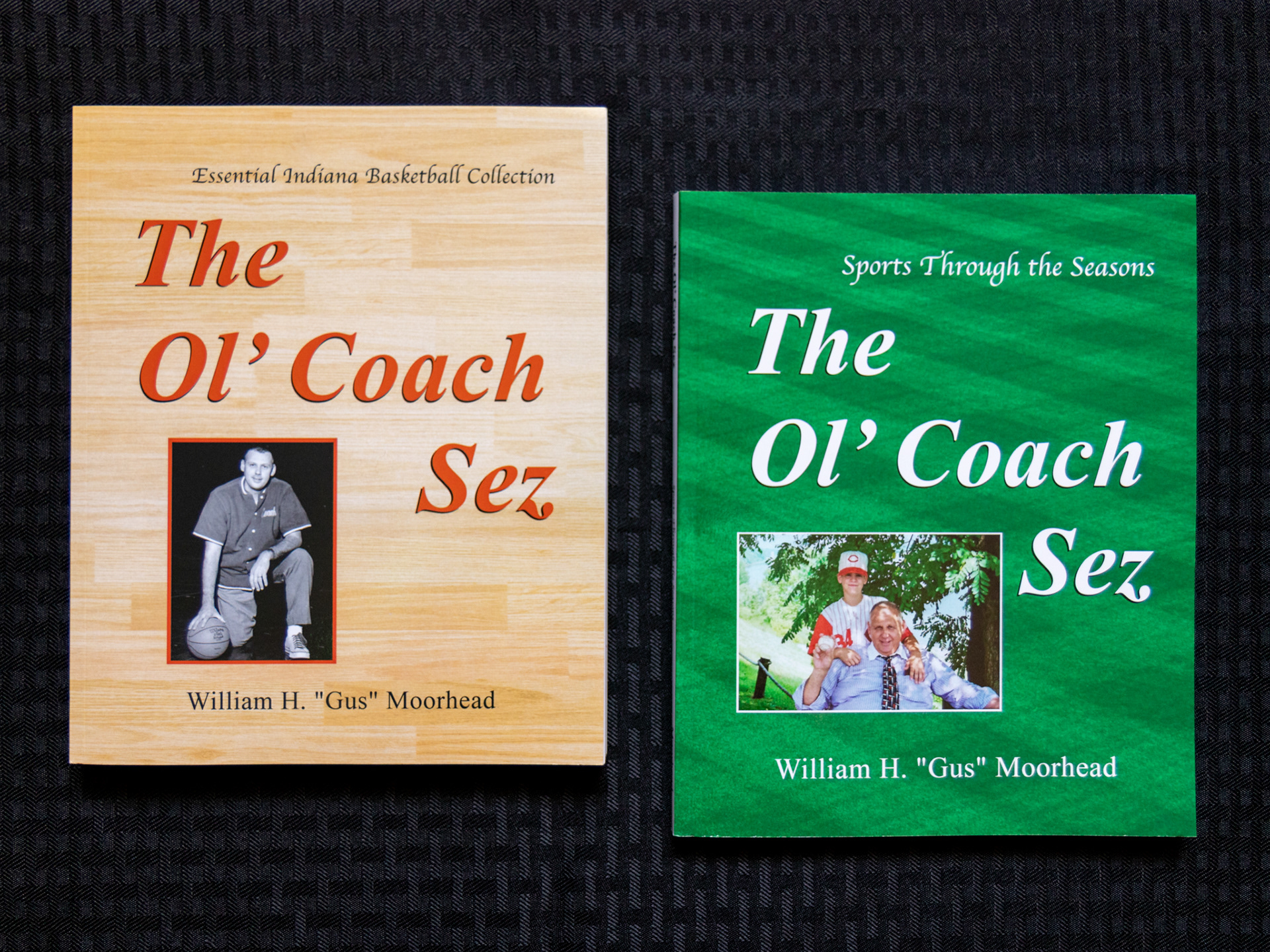 The Ol' Coach Sez series contains two volumes, the Essential Indiana Basketball Collection published in November 2017, and Sports Through the Seasons, published April 2018. The books contain the best writing by sports columnist William H. "Gus" Moorhead that originally appeared in Ripley Publishing Company newspapers during his retirement career from 1991-2006. The series was developed and published by Jared Daniel Rogers through JDR Press.
Upon retirement from a career in education in 1991, Gus told area newspapers that he wanted to write a book about Ripley County, Indiana basketball. "There are a lot of colorful stories to be told, and I've heard all of the Ripley County stories," he was quoted. Later that year, he began writing his column and continued for over 14 years. He passed away in 2008. As I approached the project, I felt that Gus had technically written the book, I just had to find, organize, and tighten up the content.
Research began in the spring of 2016 and involved sifting through newspaper archives to identify Gus's most enduring and impactful work. From over 1,000 columns published, about 250 were identified for further co

nsideration. Over 100 made it into the final works, along with over 100 photographs. I originally ha

d the idea to publish the columns chronologically, but decided a stronger story could be told by grouping pieces and sections into themes. 
Once grouped together, I created a rough outline for the chapters and the separation between volumes. Photos procured through old newspapers and the family's collection were matched to corresponding themes.
Few digital files of Gus's writing existed, so the vast majority of the text was scanned into a computer and converted to text, or retyped. I wrote the foreword for both books, sharing how the project was conceived and developed. Newspaper stories written about Gus by area journalists were used as introductions. Coaching records, team photos, and other interesting anecdotes were added to the end of each book.
After design and proofing, the official release of the Essential Indiana Basketball Collection occurred just before the beginning of Indiana's 2017 high school basketball season. The book was marketed through a variety of regional FM radio interviews and newspaper stories. Book talks and signings were held at local libraries, basketball games, and community events. The release of Sports Through the Seasons coincided with baseball season the following spring and completed the series.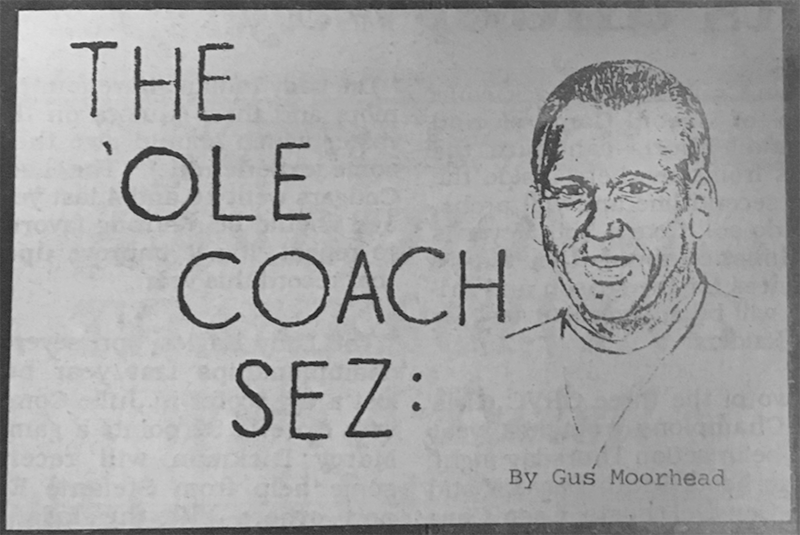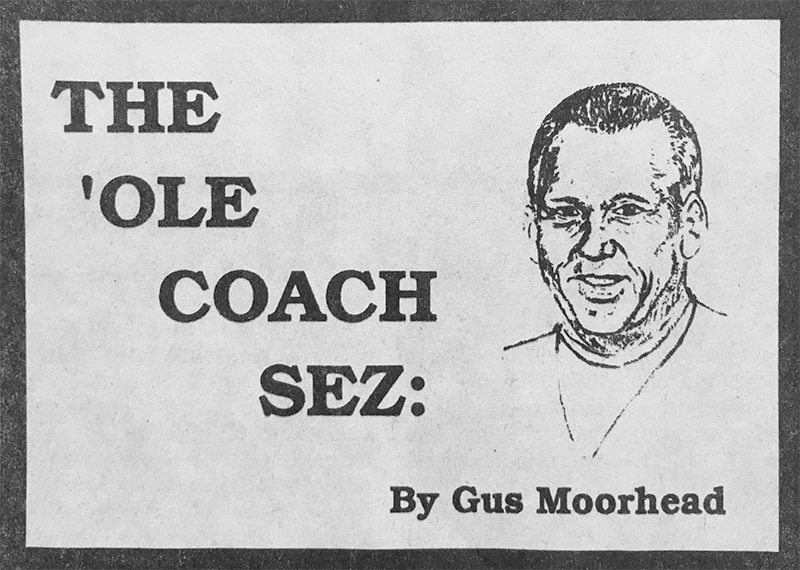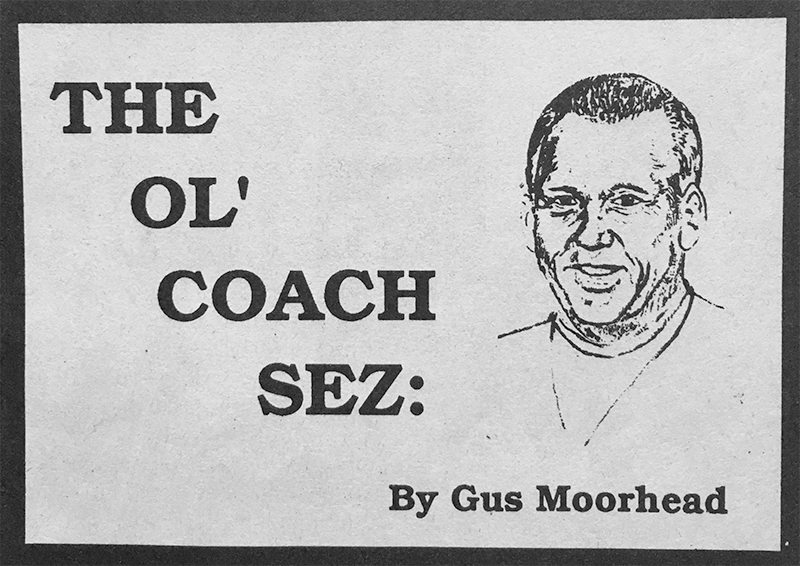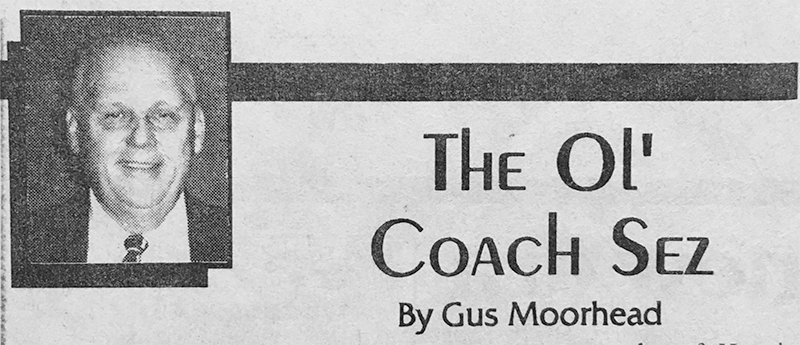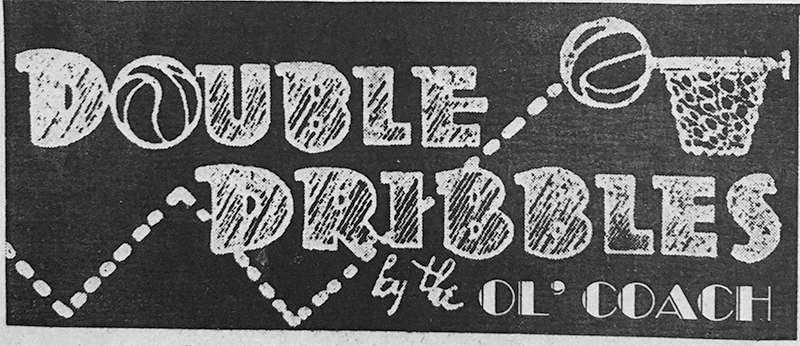 Above, all of the various column banners used through the years. The Ol' Coach Sez column published every Thursday, from late 1991 to early 2006, in Ripley Publishing Company's Versailles Republican. Beginning in 1999, Gus revived "Double Dribbles," a column formerly written by past editor Wm. "Tiny" Hunt. Double Dribbles appeared every Tuesday in the Osgood Journal, also until early 2006.
Dates for each banner, beginning from the top: 1) The inaugural artwork, only used once; 2) 1991-92; 3) 1992-94; 4) 1994; 5) 1995-97; 6) 1997-99; 7) 2000-06; 8) Double Dribbles 1999-06; 9) The original Double Dribbles artwork - "the Dribbler" being Tiny Hunt.
To connect with its original outlet, I tried to maintain a "newspaper" feel throughout each book. In some instances I included text as it was seen from the news page and in others I was able to leave the captions attached to photos as they appeared in their original form. 
I chose the color red for the Essential Indiana Basketball Collection's cover and marketing materials as that was the primary school color for Versailles, where Gus coached the Lions for 15 seasons. His final two seasons coaching and the next 23 years in administration were with the consolidated South Ripley Raiders. Green was chosen for the Sports Through the Seasons cover to draw attention to its outdoor sports themes - baseball, track, and football.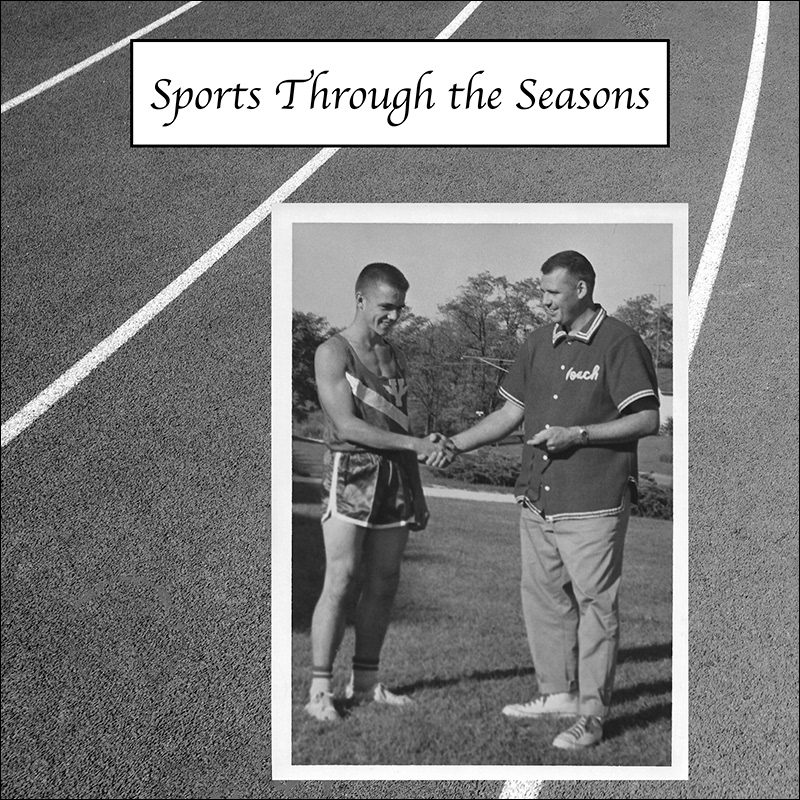 Above, page designs preceding Gus's columns for each book. Below, handwritten memos from Gus's principal days that were included in each book.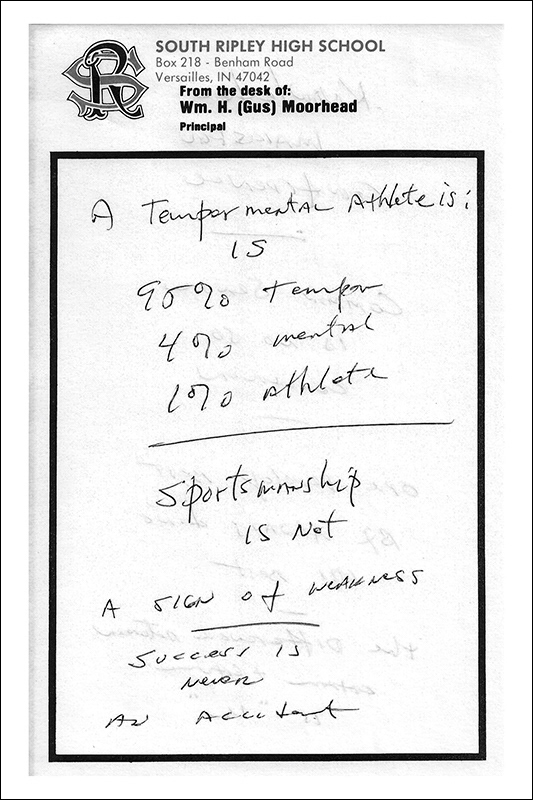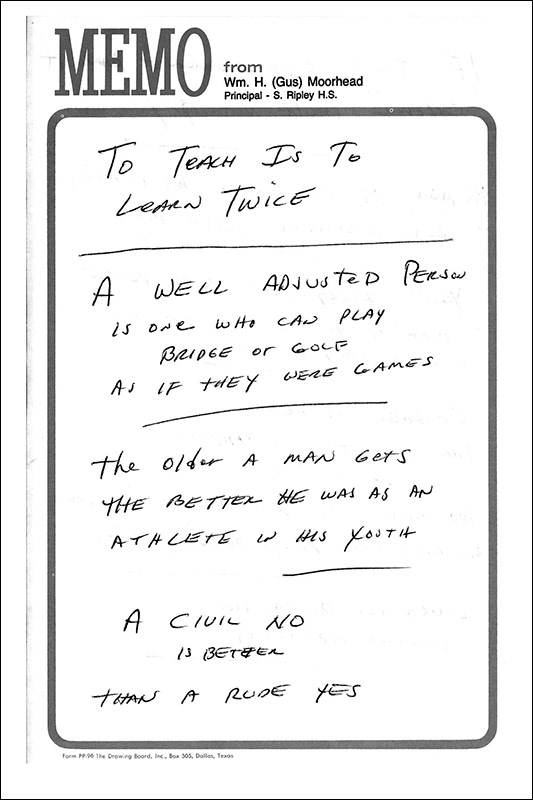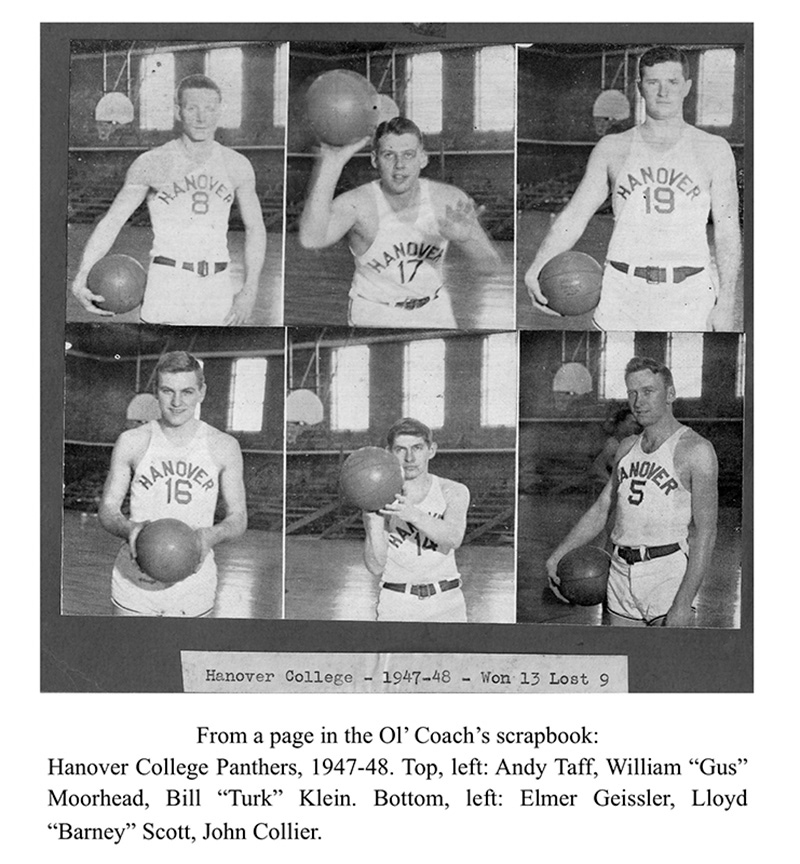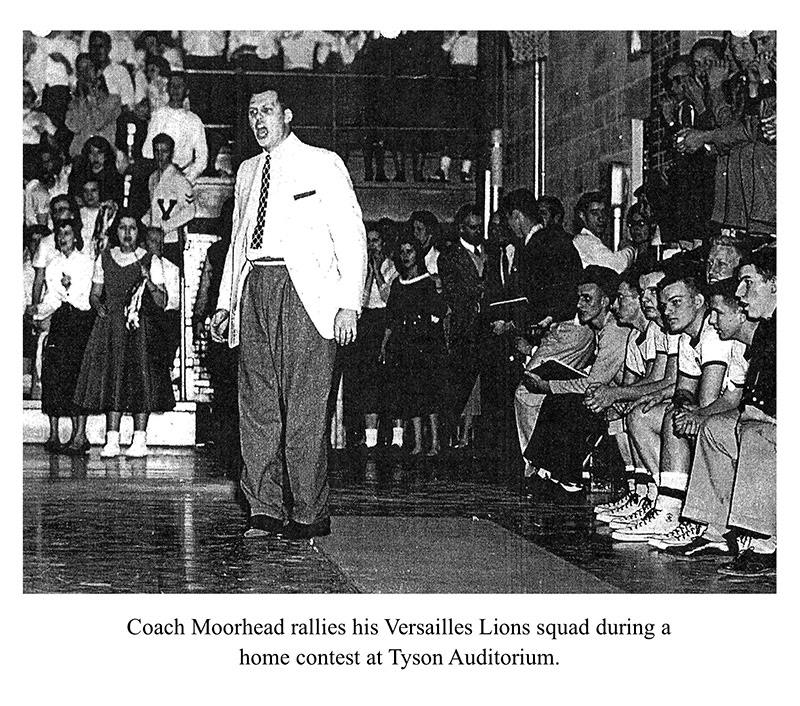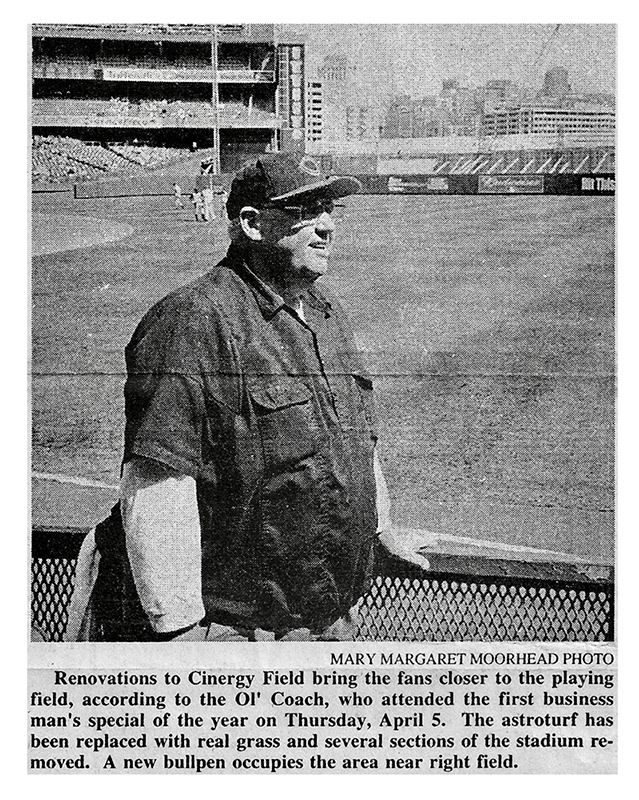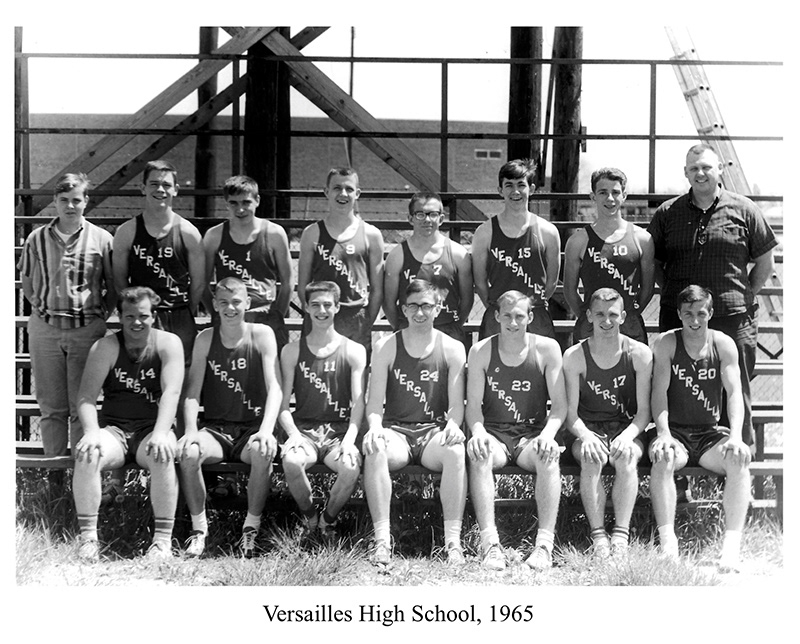 Above, a selection of photographs from each book. Thanks to a rich family collection I was able to incorporate photos from all periods of Gus's life, beginning with childhood, high school, and college playing days, to coaching and administration years, and finally through retirement and family times. I added original photographs of gymnasiums referenced in the Essential Indiana Basketball Collection.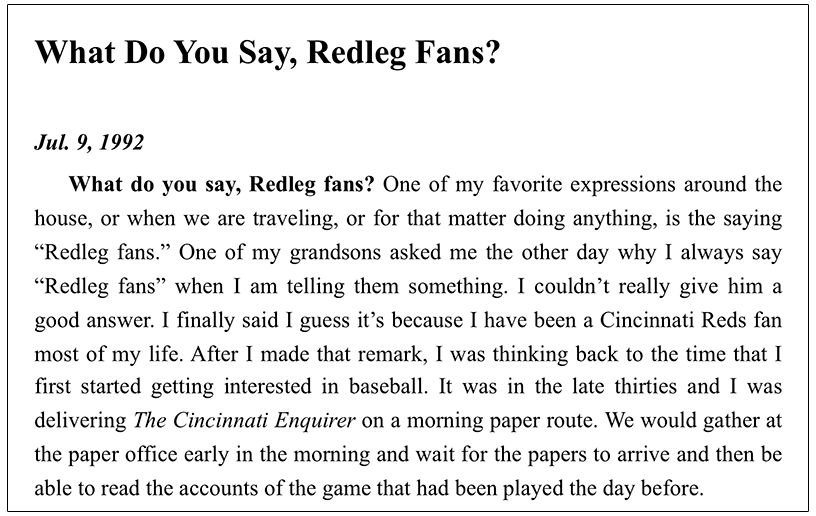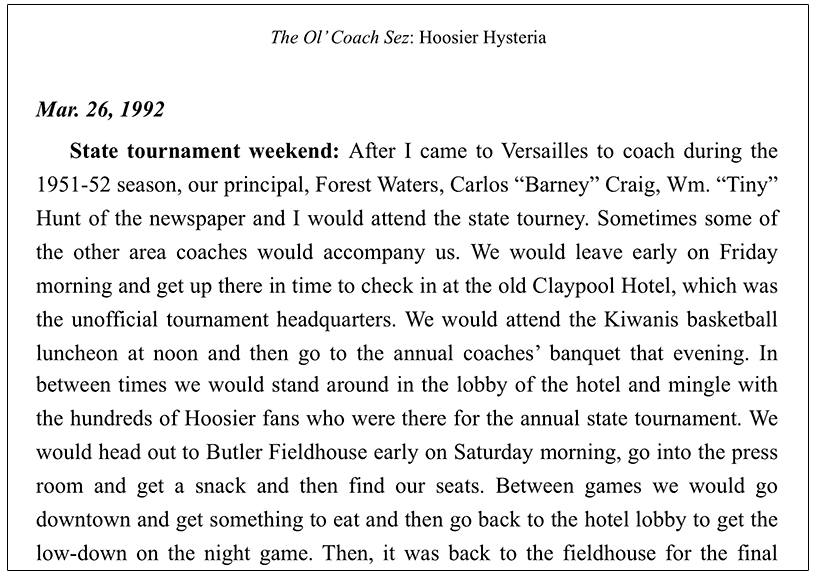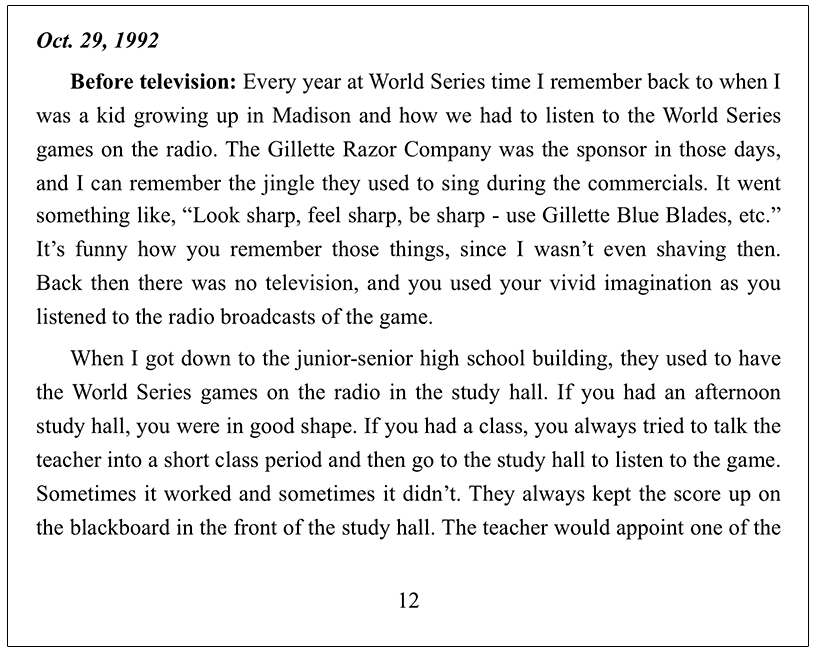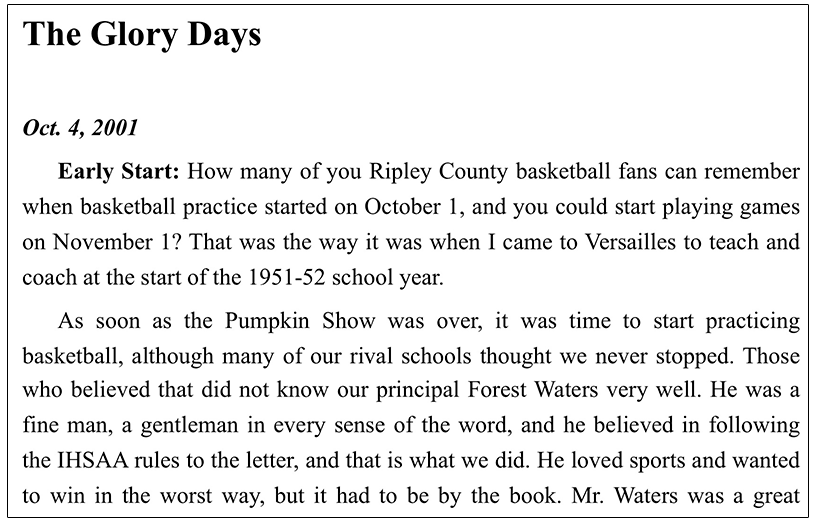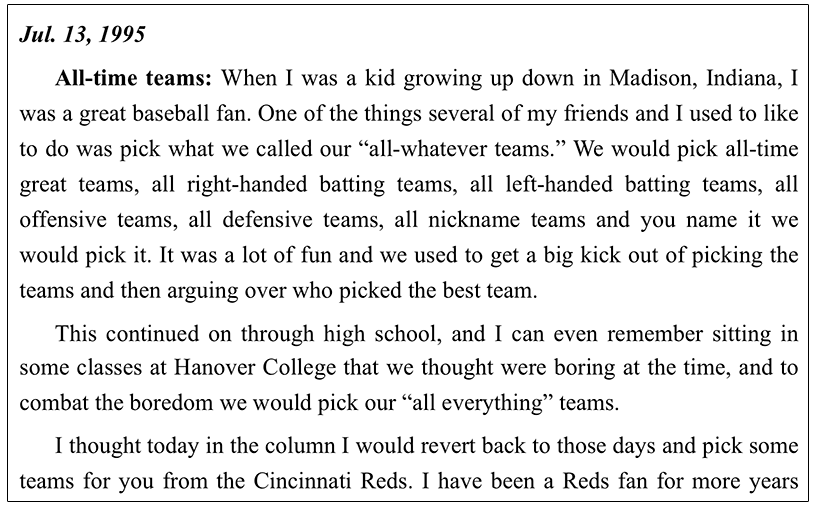 Above, text selections and layout. Like the column banners mentioned earlier, I stuck to a "newspaper" type of feel in the books with a single serif typeface throughout. The original date of publication was printed at the beginning of each column, since they were rearranged to tell stories about Gus's life in basketball and interest in sports like baseball, track, and football. The bold paragraph titles are from the original columns. Most columns contained 2-4 of these distinct sections. I created the larger chapter titles, pulling from the content where possible. Gus had a very conversational writing style, which I sought to preserve, even at the expense of some run-on sentences. Typos that appeared in the newspaper were corrected.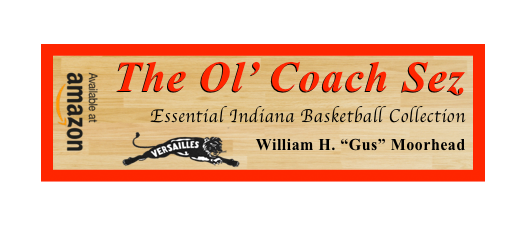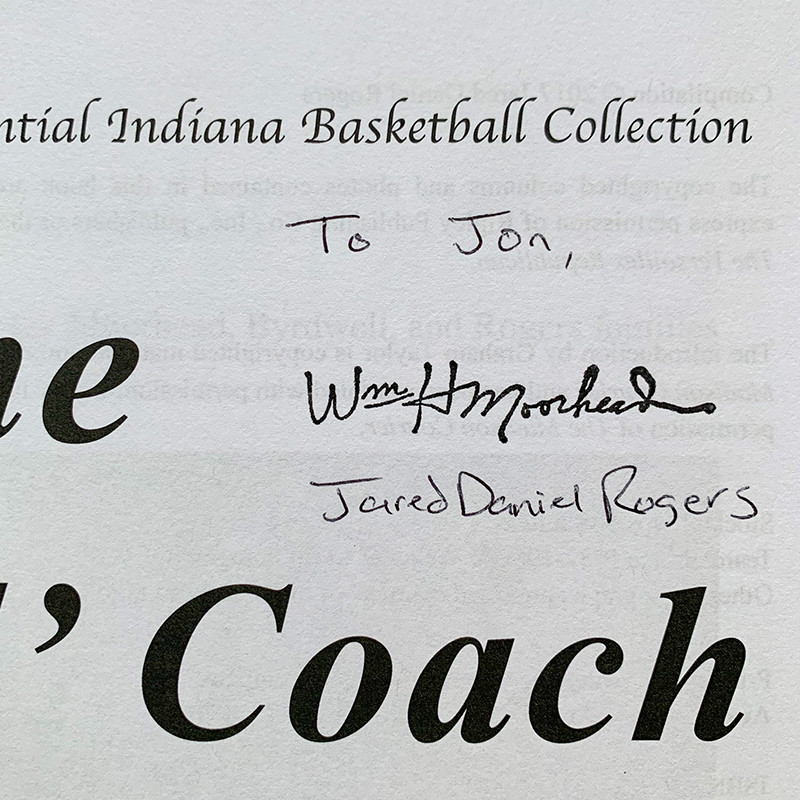 Above, Bookmarks were given out at signing events, featuring a retro Versailles Lions logo. A replica stamp of Gus's signature was created so readers could have an autographed copy of each book.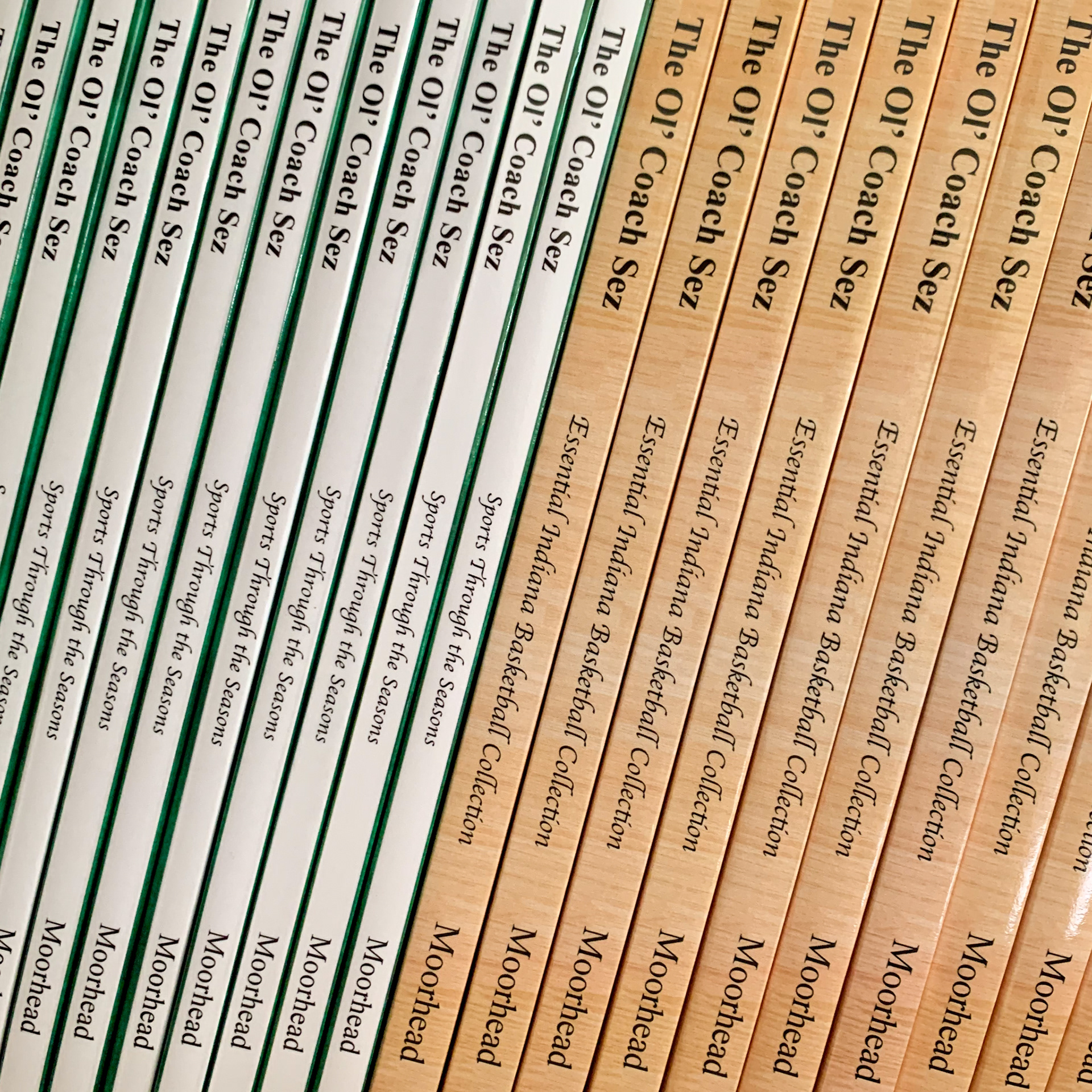 Both books were designed in MacOS Pages and printed through CreateSpace. Photos were processed in GIMP (and Photoshop for this review). While working on this project, I began writing for Ripley Publishing Company newspapers and learned Adobe InDesign and Photoshop. I continue to refine my skills in the Adobe Creative Suite and one day I would love to revisit this project and enhance it for a second release.
​​​​​​​